Want to give your home a fresh new look? Don't think of a complete overhaul just yet, since a fresh coat of paint can do wonders! This is a great opportunity to bust out your DIY chops, although you may also opt to hire residential painting services to get the best results.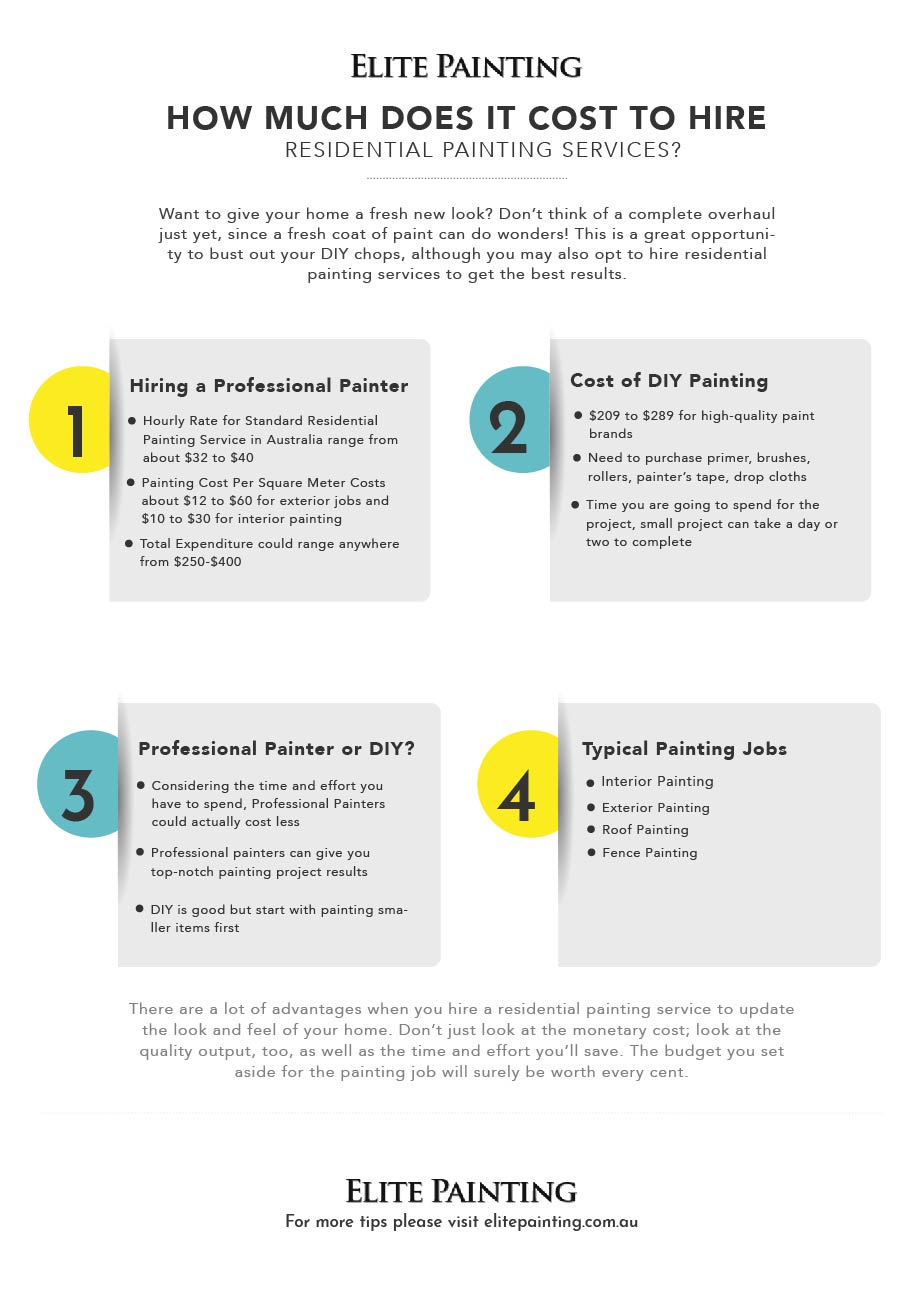 Hiring a Professional Painter
Obviously, hiring a professional painter will cost money. On average, the hourly rate of standard residential painting services in Australia range from about $32 to $35 for simpler jobs to about $40 for more complex projects. These rates don't include the cost of paint, brushes, rollers, and other tools. This means that the price could go down if you provide these materials for the painters yourself.
Meanwhile, the painting cost per square metre costs about $12 to $60 for exterior jobs and $10 to $30 for interior painting. Depending on the number of rooms you're having painted, your total expenditure could range anywhere from about $250 to $400. This is already inclusive of paint and materials. Do note, however, that the per-room cost is likely to be lower if you have more rooms to be painted.
Cost of DIY Painting
When it comes to home projects, painting rooms can be considered one of the simplest to DIY. Still, just because it's simple doesn't mean that it won't take some skill and effort. And of course, you still have to shell out some cash. A room that's about 10 x 10 square metres will require about 13 to 15 litres of paint, which will set you back about $209 to $289 for high-quality paint brands. You also have to purchase primer, brushes, rollers, as well as preparation materials like painter's tape and drop cloths.
Another important factor in computing the cost of DIY painting is the time you're going to spend. It's not all about the money, since doing the job yourself would mean taking hours from your usual schedule. This also means that you won't be able to immediately use the room you're painting. Even small projects can take a day or two to complete, so make sure you're prepared to deal with this intangible cost.
Professional Painter or DIY?
At first glance, it might feel like hiring a professional residential painting service  is costlier than taking the DIY route. When you consider the amount of time and effort you have to spend, however, professional painters could actually cost you less. Another factor that you might want to look at is the quality. If you don't have much experience in residential painting, you might end up with a shoddy output and end up repeating the job. Working with the pros means you get top-notch results. Some companies even offer warranties!
Of course, this doesn't mean that you should write off DIY painting completely. Start with painting smaller items first, like planters or some shelves before you graduate onto bigger projects. Soon enough, you'll develop the skills to paint rooms or even your entire home.
Typical Painting Jobs
Some of the most common residential painting jobs include interior and exterior painting, roof painting, and fence painting. For the former three, it's ideal to hire professionals to ensure not just high-quality work but also to ensure your safety, especially when working at heights is involved. On the other hand, the last of these projects—fence painting—can be a good starting point for getting some first-hand painting experience.
There are a lot of advantages when you hire a residential painting service to update the look and feel of your home. Don't just look at the monetary cost; look at the quality output, too, as well as the time and effort you'll save. The budget you set aside for the painting job will surely be worth every cent.
GET A QUOTE